Nails and screws are the unsung heroes of the fence and deck industry. We talk a lot about the best type of wood to use for your planks–FenceWorks NW sources our cedar from a sustainably managed forest for a long-lasting fence or deck that's good for the environment. And you've likely heard us wax poetic on the merits of pressure-treated vs. galvanized steel posts. The materials you choose are important. However, it's equally important to select nails and screws that will hold it all together for the long run.

You painstakingly chose the wood for your fence or deck, opting for material designed to ward off the rot that's so pervasive in the damp Pacific Northwest. You thought you covered all the bases.And then your fasteners begin to rust at about the same time you learn that wood treated to resist rot doesn't also resist staining or rust.

Just like one bad apple can ruin the bunch, nails or screws that rust can compromise an entire structure. When rust stains drip down a fence, it's not just ugly, it's damaging the integrity of the fence, which will cause the fasteners to fail.

Today, we're talking about coated outdoor screws and galvanized nails. We'll discover when to use each, and the benefits of choosing one over the other. If you're considering building a fence or a deck in Clark County, Washington, this information will help you ask the right questions and understand the "why" behind the decision to use galvanized nails or coated screws.
Galvanized nails
An iron nail in wet conditions will have rusted before you have a chance to pay the invoice on your new investment. Rust isn't just unsightly, it's a weakness that will decrease the life of your fence or deck. Galvanized nails are dipped into molten zinc. When the nail is removed from the zinc, a chemical reaction takes place, forming a crystalline pattern called spangle. This coating is designed to protect the metal inside from rust and corrosion, extending the life of the nail.

Galvanized nails are recommended for use in pressure-treated wood, making this combination the most cost-effective fencing option.
Coated outdoor screws
Coated outdoor screws are more time-consuming to install, but the end result is a fastener that's more effective and long-lasting. The coated outdoor screws we install are specificially designed to resist the chemicals in pressure treated wood as well as the tannin or tannic acid found naturally in cedar.

Your fence is designed to last, but what if you accidentally nick a board with your weedeater? Screws are easier to remove than nails, which can become deeply embedded in the board. Outdoor screws can be easily removed to replace or readjust a couple of boards quickly.

Outdoor screws can be galvanized, like the nails we discussed above, or coated in an epoxy-based polymer resin overcoat. Some deck screws are galvanized and then coated in a polymer.

Coated outdoor screws are a good option for pressure-treated wood or outdoor decking because they will not stain the wood or cause corrosion.

FenceWorks NW is a local, veteran-owned fence and deck company in Clark County, Washington. Our team of expert craftsmen has over 50 years' experience building high-quality fences, and we never compromise on quality when we're constructing a new project.

When choosing between galvanized nails and coated outdoor screws, it comes down to personal preference. Of course, the best choice is always the choice that extends the life of the structure.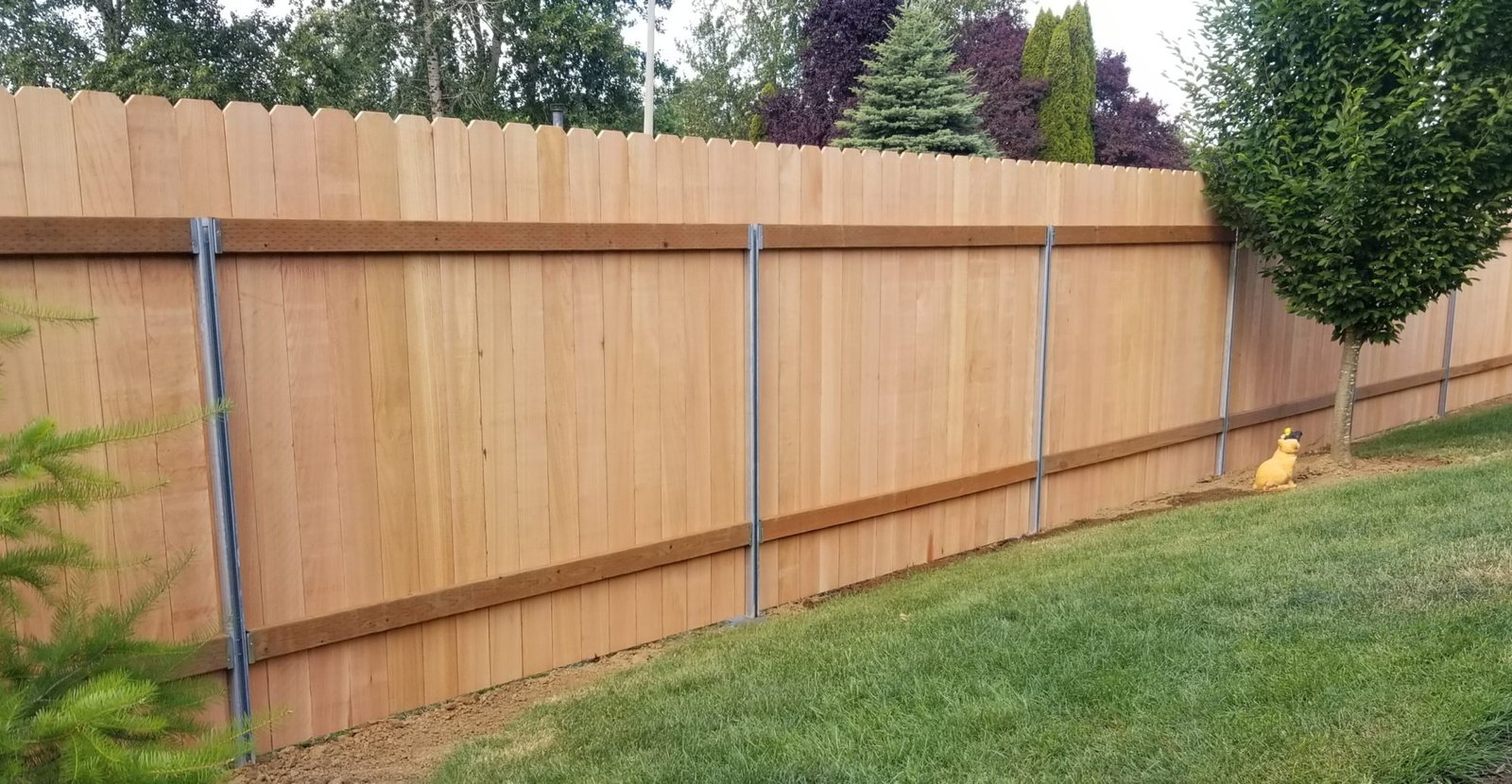 Not sure which option is right for you?
Every FenceWorks NW project begins with a free consultation and estimate, and we'll assess your situation to help you make a decision on design, wood, and fasteners to use on your project. We care about our customers and are committed to delivering the fence or deck you desire at a price you can afford. Give us a call today, and let's get started building a deck that will witness hundreds of barbecues or a fence that will keep your property safe and secure for years to come!
Trusted in Southwest Washington Since 2018
The experienced team at FenceWorks NW are the fence, deck, and covered patio experts in Vancouver and the surrounding areas in Clark County Washington. We would be happy to come by and provide a free comprehensive estimate.
Fences

(360) 605-1949

Decks

(360) 605-1759

Address

12308 NE 56th St., Unit 1106 Vancouver, WA 98682

Hours

Monday-Friday: 7am-7pm
Saturday & Sunday: 9am-6pm
5 ft. tall custom horizontal cedar fence featuring 3/4″ boards on 6 ft. span.